Hi everyone! First, thanks so much for all of your music suggestions on my previous post. I'm adding to my playlist as we speak

.
Second, I'm starting to get Arc (advance reading copy) requests from bloggers/reviewers for Up From The Grave, but Arcs won't be available for several weeks. Furthermore, I only get a few of them, and I give those away in contests on my blog. Arcs for review purposes are handled by my publicist. If you're a blogger/online reviewer and you're interested in an Arc of Up From The Grave, you can contact the Avon Books publicity department. I don't know their criteria, though, and some review copies are sent post-publication versus pre-publication, so as most of you know, asking doesn't guarantee that you'll get one.
However, I do have something to give away today. Cover flats for Up From The Grave. If you're not familiar, cover flats are the printed book jacket, and my publisher gave me a bunch this time, so I'm sharing

. Here's what it looks like: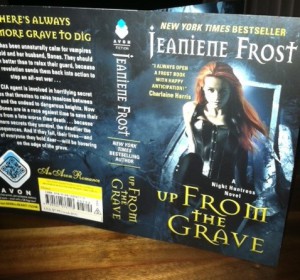 I have 50 to give away. International entries are welcome.
If you're interested:
1. Send an email to jeanieneprizes AT gmail DOT com. (obviously replace the "AT" with an "@" and the "DOT" with a "." in your email.)
2. Make sure to include your name and the email address you want to be contacted at if you win, if it's not the email you're sending your entry from.
3. You can only enter ONCE. Duplicate entries will be deleted.
Remember, this is only the cover flat and not the actual book. Winners will be selected by Randomizer. Contest opens today and ends Wednesday, September 18th at 11:59PM EST.
Good luck!
Mirrored from Frost Light.