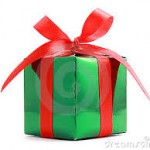 It's been a while since I ran a giveaway, and what better time to do it than the Season of Giving? Besides, I'm all done with my Christmas shopping and that in itself is something for me – a procrastinator – to celebrate :).  So, without further ado, let's get to the giveaways! Here's what I have up for grabs:
15 winners will receive a signed copy of my backlist, any novel of their choice.
Since I have twelve published novels, you have a bunch to choose from. Links to tell you more about the book on each title (
Halfway To The Grave
,
One Foot in the Grave
,
At Grave's End
,
Destined For An Early Grave
,
First Drop Of Crimson
,
Eternal Kiss Of Darkness
,
This Side Of The Grave
,
One Grave At A Time
,
Once Burned
,
Twice Tempted
, 
Up From The Grave
,
The Beautiful Ashes
).
This part of the contest is open to international readers.
5 winners will receive a $15.00 Amazon gift card
, emailed to the email address that the winners specify.
This part of the contest is for US residents only
(sorry, I don't know how to send foreign email gift cards or anything about monetary exchange rates!)
3 winners will receive a signed early copy of Bound By Flames*
, book three in the Night Prince series.
This part of the contest is open to international readers.
1 "grand prize" winner will receive a signed early copy of Bound By Flames*, three signed copies of any three novels in my backlist, and a $50.00 Amazon gift card
. This part of the contest, for the same reason listed before, is
open to US residents only
.
Rules for entry:
1. Send an email to  jeanieneprizes AT gmail DOT com  (obviously replace the "AT" with an "@" and the "DOT" with a "." in your email.)2. Include your full name and the email address you want to be contacted at if you win. IMPORTANT: Specify if you're international or a US resident so we know which prizes you are eligible for.3. You can only enter ONCE. Duplicate entries will be deleted.
Winner will be chosen by Randomizer since I can't choose between any of you ;).
Disclaimers: 
Due to the adult content in these novels, you must be 18 or have permission from your parent/guardian to enter. Contest is void where prohibited.
Contest Starts
: Now.
Ends:
Friday, December 26th at 11:59pm EST
.
Good luck and I wish everyone a very happy holiday season!
** Bound By Flames will not be mailed out until after the first of the year because I won't have my author copies until then. All other prizes will be sent out between one and five business days after receipt of winner's information.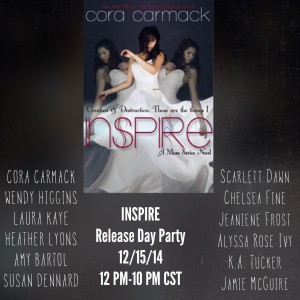 Lots of stuff to cover, so let's get right to it! First up is my live chat and giveaway. On Monday, December 15th from 1pm through 11pm Eastern time, bestselling author
Cora Carmack
is hosting an online party to celebrate the release of her New Adult paranormal, INSPIRE. I'm a big fan of Cora's books and she is sweetie in person, so when she asked me if I'd like to participate in her release party, I immediately said yes. As you can see from the picture, several more authors are participating, too, and there will be prizes and giveaways during the duration of the the event.
My time slot is from 7:00pm - 7:30pm, Eastern time on Monday, over on this page HERE.
I'll be chatting about books, characters, and answering any questions you ask me, plus giving away three copes of The Beautiful Ashes (Broken Destiny, book one) and three copies of Once Burned (Night Prince book one). Come on out if you want to chat, or if you just want your chance to score a free book :).
Next up are in-person appearances. To celebrate the release of
Bound By Flames, Night Prince book three
, I will be at the following places:
Wednesday, January 28th, 7pm
Malaprops Book Store
55 Haywood Street
Asheville, NC 28801
Saturday, January 31st, 1pm - 4pm 
KissCon Sarasota, hosted by Avon Books
Avon Books and Bookstore 1 Sarasota are teaming up to bring Florida romance readers the area's first-ever multi-author KissCon (an Avon Affair!) on Saturday, January 31, 2015. This special VIP event includes a catered mix & mingle with the authors, followed by a special "Actor's Studio"-type discussion, audience Q&A, interactive trivia, and an exclusive book signing (there will be tons of books to buy onsite!).  The star-studded author line-up includes: Katharine Ashe, Maya Banks, Lena Diaz, Megan Frampton, Jeaniene Frost, Laura Lee Gurhrke, C.J. Kyle, Julia Quinn, Kerrelyn Sparks and C.L. Wilson. More info and tickets
here
.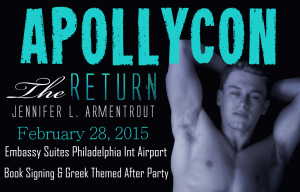 Saturday, February 28th, 11:00am – 11:00pm
ApollyCon
Join over two dozen authors for an all-day event OR book signing only, reader's choice which.
Philadelphia, PA
Yes, I'm only doing three events for Bound By Flames' release. In 2014, I traveled to 16 different cities and ended up spending over a month on the road. I love meeting readers and seeing new places, but all that time away from my keyboard wasn't good for my deadlines. In order to get caught up, I'm really cutting back on my travel in 2015. After all, if I don't keep writing new books, then we won't have much to talk about when I finally do make it to your area ;).
Speaking of books, my publisher is doing something special to celebrate the upcoming release of Bound By Flames.
From now until January 19th, Once Burned, book one in the Night Prince series, is only $1.99 in ebook*.
But wait, there's more!
During the same time frame
, my publisher has also dropped the price of
Halfway to the Grave, book one in the Night Huntress series, to only $1.99 in ebook
. So, if you've read one series but not the other, now is your chance to meet new characters at a very low price. Already read both? Then tell a friend, if you enjoyed them. As an author, there's nothing more flattering than a reader taking the time to recommend my books.
Order Once Burned at:  
Amazon
,
Barnes & Noble
,
iBooks
, or your favorite ebook retailer.
Order Halfway to the Grave at:
Amazon
,
Barnes&Noble
,
iBooks
or your favorite ebook retailer.
That's it for now. See some of you on Monday, if you can make it to the live chat!
*Sale priced guaranteed for US residents only. This isn't up to me or my publisher: foreign retailers have discretion over whether they utilize a sale price or not.
thisclose
to being finished with my Christmas shopping, so any personal updates would consist of things like "Okay, who am I forgetting and what would they want?" plus "How is Christmas in two weeks, anyway? It isn't possible!" But, since no one wants to listen to my forgetfulness or complaining, I'm giving you something GOOD to listen to instead :). Thanks to my fabulous audio narrator,
Tavia Gilbert,
and HarperAudio, we now have audio versions of all three previously-posted scene snippets from Bound By Flames. If you haven't already seen the printed versions, they are
here
,
here
and
here
. If you want to listen to those versions, click
here
for the audio.
Hope you enjoyed and thanks again to Tavia and Harper for making these available :)
Please note: Although there aren't pre-order links available for the audio version of Bound By Flames (don't ask me why - I wish there would be!) the audio version WILL release on January 27th along with the paperback and ebook formats.
I am
here
 and
here
. Oh, and you don't need to worry about spoilers in any of these. I hate spoilers, so I only post scenes that are free of any pertinent plot points. I will say that this (and previous) scenes do contain spoilers if you haven't read Once Burned or Twice Tempted, though, so if you're not caught up on Vlad and Leila's story, then you might want to skip this. And if you didn't
read my previous post
, the Night Prince series will now consist of four books instead of three, so Bound By Flames will not be the last book for our fiery hero and electrified heroine. Hope you enjoy!
***
Gretchen slid her plate away with a groan. "For creatures that only drink blood, your people can
cook
," she told Vlad. "It's their fault I've gained five pounds since I've been here."
"Nine," he replied blandly.
Gretchen's eyes narrowed. "Mind reader," she muttered.
I suppressed my smile. Vlad didn't. He flashed a wicked grin at Gretchen.
"Right. That's how I knew."
"How's Dad?" I asked to change the subject.
My sister gave a final glower at Vlad before she answered. "His knee's been bothering him, but he refuses to let anyone look at it. Says he'll wait until we're home and he can see a
living
doctor, which is stupid, right?"
She raised her voice until she was yelling the last few words. I winced, both at the assault on my supernaturally sensitive hearing and the reason behind it. Gretchen had run out to see us when we arrived at the lovely Tuscan house Vlad had hidden them in, but my father stayed in his room. He didn't join us for dinner, either, yet he was listening. Gretchen didn't need super senses to know that and neither did I.
Vlad caught my gaze, his brow rising. I shook my head. No, I didn't want him to forcibly heal my father's knee, just like I refused to use my new mesmerizing powers to make him forget how much he hated my turning into a vampire. Hugh Dalton would have to come to terms with that on his own. If that meant we didn't speak for a while … well. It wouldn't be the first time my father and I had been estranged.
"How much longer do we have to hide out here?" Gretchen asked, giving up on my dad coming out and answering her taunt. "This place is better than Romania, but one day, I'd like to quit playing hide-and-seek and get on with my life."
I winced hearing her give voice to my guilt over their circumstances. "I know, and I'm sorry. We're working on it."
She blew out a sigh and then gave Vlad a speculative look. "It's Szilagyi, isn't it? He's not dead after all."
"Why would you say that?" Vlad asked, his tone dangerously silky. We hadn't told her. Had one of his staff been loose lipped?
She huffed. "You're Dracula, so everyone knows your enemies don't live long, but my dad and I are still locked up, so whoever's yanking your chain must be the king of badasses. The only person I know who fits that description is the same old vampire you couldn't kill before."
Vlad's nostrils flared while I stared at my sister in disbelief. First calling him Dracula, then bringing up Szilagyi successfully faking his death twice? The nine pounds Gretchen had gained must've come from her new brass balls.
"You are correct," Vlad said, the words barely a hiss. "That is why staying hidden is your only hope. If I've had trouble killing Szilagyi, what do you think your survival chances are without my protection?"
"Zero," she said with a sigh. Then her mouth quirked as she looked at me. "Guess it's a good thing you're already dead, sis. Harder to kill you a second time, right?"
"Right," I said, my voice catching as Vlad's feelings briefly crashed through his shields, searing my subconscious with echoes of rage and a darker, stronger emotion. To say he didn't like remembering how I'd died was an understatement.
To punctuate that point, Vlad stood. "I'm sure you would enjoy time alone with your sister before we leave in the morning. Gretchen"—a brief nod—"good night."
I stared at Vlad as he left. Part of me wanted to go after him, but I hadn't seen my sister in weeks and who knew when I'd get to spend time with her again? Our trip to Payns gave us an opportunity to swing by Tuscany, but I couldn't visit often. We had to make sure Szilagyi didn't get a hint of my family's location, plus, with their war heating up, Vlad would rather I never left the lavish fortress he called home.
Besides, when Vlad was in a mood, sometimes it was better to leave him alone. At least for a little while.
I forced a smile as I turned back to Gretchen. "Let's finish catching up over dessert. I think I smell someone hand-firing crème brûlées in the kitchen …"
Vlad's Tuscan house was small compared to his Romanian castle, but it still had six bedrooms and a servants' wing. After a couple hours chatting, Gretchen went to bed because she couldn't contain her yawns. Unlike me, she wasn't used to being awake all night. It was easy to figure out which of the remaining rooms Vlad was in. Even if I couldn't tell by scent, I could feel him. His aura filled the house, the power he gave off ominous in its potency even when it also felt relaxed.
Like a sleeping dragon
, I thought, spying him through the half-open door at the end of the hall. Vlad was in a chair, his long legs stretched out on a nearby ottoman. He didn't stir as I came inside the room. He must have fallen asleep while using his tablet. It was still open on his lap, his hands resting on the attachable magnetic keyboard as if he'd drifted off in the middle of typing something.
I stared at him in silence. With the sun rendering me unconscious from dawn to dusk, I hadn't seen him sleep since he'd changed me into a vampire. Even before that, it had been a rarity. Was it my new, super-sharp vision or did he look a little different with his features relaxed in slumber? Sure, those winged brows were just as prominent, but his lips were parted instead of curled into the sardonic half smile he usually wore. Dark stubble clung to the lower half of his face, but his jaw wasn't set in its normal, unyielding lines. Closed eyelids hid the penetrating stare he so often leveled at others and for a few moments, the changes let me imagine that I could see hints of the innocence Vlad must have had, once upon a time when he was human.
I came closer, wondering what he'd been like before the brutalities of his life had hardened him into the complex, lethal man I'd fallen in love with. Did he have any happy memories from his childhood? Or had the dangerous political circumstances he'd been born into stolen that from him? As a child, had he ever been afraid of the dark? I leaned down, wanting to touch him but not wanting him to wake up yet—
Flames blasted into me. I screamed, throwing up my arms in instinctive defense. In the next instant, I was seized in a viselike grip, Vlad's hard chest almost bruising my cheek from how forcefully he yanked me to him. Worse, the emotions that tore through my subconscious were so frenzied, I couldn't tell if he was alarmed, enraged, or a seething combination of both.
Szilagyi must have found us! I braced for the next attack, wondering why Vlad wasn't moving. Was he hurt? I tried to push him away to look, but he didn't budge. Then water hit us, soaking our clothes and filling me with fresh panic.
"Vlad, what is it?" I almost screamed.
***
Bound By Flames releases on January 27th in paperback, ebook and audio. You can pre-order from 
Amazon
, 
Barnes&Noble
,
BooksAMillion
, 
Powells
,
 Indiebound
,
iBooks
, or your favorite retailer.

It's been a while, so I'm posting a new scene from Bound By Flames. If you haven't read the first two, they're
Jeaniene will be attending ApollyCon in Philadelphia, PA this February 2015.
All-day event OR book signing only, reader's choice
February 28th, 11:00am – 11:00pm
Philadelphia, PA. Details here: ApollyCon
Mirrored from Frost Light.
Get ready for even more Vlad and Leila. The Night Prince series will be extended to four books instead of three! Full details here.
Mirrored from Frost Light.
If you live in the US like I do, then Thursday is Thanksgiving for you, too. I love this holiday for many reasons, one of them being guilt-free gluttony because you're supposed to indulge your appetite and then worry about what the scale says later :). So, tomorrow I will be grateful for spending time with my family, for good food that I didn't have to cook (my favorite kind!) and for having the day off from work so that I can more fully enjoy reasons 1 and 2.
November has also become a time of reflection for me. In November 2011,
as I blogged about once before
, I went to the Emergency room with shortness of breath and severe chest pain. I thought I was having a heart attack because it hit me out of the blue and I couldn't think of any other cause for my symptoms. To say that I was terrified is to put it mildly. I know that I'm going to die one day, but I'd always shelved that under the "much later" category in my mind. That afternoon in November, "much later" suddenly felt like "right now" and the realization exposed truths and weaknesses in my life that I'd been blind to.
The most significant of those was what I actually had control over, and the shocking answer was - where it really counted - nothing. That had never occurred to me before, probably because I had a good job, a loving husband, a great-if-sometimes-dysfunctional family, and good health. All of those things are wonderful and I cherish them, yet if I were being honest, they also made me emotionally and spiritually cocky. You see, I was starting to believe that I was owed those things instead of recognizing them for what they were – priceless gifts, and gifts are never owed or earned. They're given, and all the receiver can take credit for is accepting them.
While I was being wheeled via stretcher into an MRI machine to see if my severe chest pains could be a life-threatening pulmonary embolism since a heart attack had been ruled out, I realized that I was owed nothing, I owned nothing and I had control over nothing. I couldn't even keep breathing, if my medical condition turned out to be as serious as feared. With everything else abruptly stripped away, all I had left was the one thing I'd begun to take for granted the most: my faith.
I became a believer in Christianity when I was nineteen. It wasn't because I was raised in a religious environment; my father was an atheist and my mother considered church as nothing more than a rare social event. Throughout my childhood, I thought of God and Santa Claus in much the same way: as invisible figures that might reward you if you were good, but were waiting to punish you if you were naughty. Around ten or eleven, I outgrew my already-tenuous belief in both, relegating them to common childhood mythologies and almost pitying anyone who believed otherwise.
I won't go into detail about what changed when I was nineteen. That would take another post entirely. Suffice it to say, I ended up believing that Jesus was who He said he was and the once-scornful agnostic now had to endure some scorn and ribbing over my newfound faith (justified paybacks, one could argue.) Fast-forward almost twenty years. I still believed, but my church attendance was sporadic and my faith had been back-burnered. Professionally and personally, things were going really well and I thanked God for that, but I also gave myself a lot of credit, too.
I've often told my editors and my critique partners that subtlety goes right over my head, so if they wanted me to take a critique suggestion seriously, then they had to be blunt. Well, thinking I might die was blunt enough for me to take a serious look at my faith. The most amazing thing to me then, and still is now, is that though it was tattered and even had holes in places, when it was the only thing I had left to fall on, it still held me up. I can't take credit for that any more than I can take credit for the other priceless, undeserved gifts I've been given. They came from above, and all I've ever done is hold out empty, stained hands while saying "please, I can't do this." I thank God that this has always been enough for Him, and His mercy has met me wherever I am because it isn't dependent on my worthiness. It's dependent on His love, which is unending for me and everyone else.
In case you're wondering, it turned out that I'd had an acute case of costochondritis, though it was originally mis-diagnosed as pleurisy. Costochondritis caused me to have regular, though less severe, chest pains for over a year, but considering what it could have been, I was then and still am beyond relieved. So, to wrap up a really long post, mercy is what I'm most grateful for this Thanksgiving season. I hope that as I grow in gratitude for this and other blessings, I'm able to show more mercy and kindness to others. I can't think of a better way to express my gratitude than that.
That's it for the personal revelations. They're rather long-winded, so now you can understand why I don't do them very often :). If you live in the US, I hope that you and yours have a wonderful Thanksgiving. If you live elsewhere in the world, then I hope that you and yours have a wonderful remainder of November.
Note: This post has nothing to do with writing, books, or professional updates. It's one of my rare, totally personal posts, so feel free to skip if you're browsing for book news. Note 2: I talk a little about my faith in this post, so also skip if religion is a trigger topic for you.
While I've been busy with revisions and moving, seems some of you have been busy, too! A couple weeks ago, I was so flattered to learn that
Up From The Grave
had been nominated for a
Goodreads Choice
award in the Fantasy category. As time passed, it went from being nominated to going into the semifinals until now, it sits in the final round. This nominees and advancements were voted for by readers and that's how the winners will be determined, so here's a huge thank-you from me to you for placing Up From The Grave in the final round! I am in such fabulous company that I don't envy anyone their voting choices, but if you're interested,you can 
click here to vote
.
Up From The Grave was also nominated for a
Romantic Times Reviewers' Choice award
in the Urban Fantasy Worldbuilding category. Once again, I am so flattered by the nod and to be counted among such stellar company. Only RT reviewers can vote on this award, but to see the nominees in this and other categories, you can go
here
. Thank you, RT reviewers!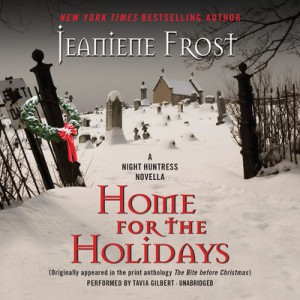 Audio book readers, good news! The audio edition of
Home For The Holidays,
my Cat and Bones novella that originally appeared in The Bite Before Christmas anthology, is now available in audio. For a refresher, here's the description:
'Tis the season to join Cat and Bones for some holiday cheer in this Night Huntress novella by
USA Today
and
New York Times
best-selling author Jeaniene Frost.
They were looking forward to a normal holiday - at least as "normal" as it gets for vampires Cat and Bones and their otherworldly friends and family. But their yuletide plans are shattered when a mysterious stranger shows up and reveals long-buried secrets that threaten to take a bite out of their holiday cheer - and lives.
For those of you who've already read this story, you'll remember that it's the one that contains a big revelation about Bones and Ian, among other surprises. If you want to add this to your holiday shopping, here are some ordering links:
Downpour
,
Audible
,
iTunes
,
Ambling Books
or your favorite audio retailer.
Finally, as promised, I have some big news about the Night Prince series. I've been asked by many readers, "Why are you ending Vlad and Leila's story at only three books?" and my answer has always been "Because that's how many books it will take to tell their story."
Story
is what determines series length to me, not necessarily how many books I'm under contract for, because story is the most important thing to me as a writer. Many of you will remember that I ended the Night Huntress series at book seven instead of eight because I had reached the end of Cat and Bones's story earlier than anticipated, as I detailed in
this post
. Well, *wry grin* once again, it seems that I can't count when it comes to guessing in advance as to how many books it will take to tell a complete story.
About halfway through writing Bound By Flames, I realized that I still had a lot of story left to tell, so I called my editor and said, "How would you feel about Vlad and Leila's series ending at book four instead of book three, if I can't fit everything into this?" Her response: "If you have more story to tell, tell it." Well, as it turned out, I did have more, so now that the third book is finished, I can officially tell all of you that
Bound By Flames will

NOT

be the end of the Night Prince series. There will be a fourth novel to wrap up Vlad and Leila's story. 
I hope that most of you will be happy to have one more book than originally anticipated, and once I have a title and release date for Night Prince book four, I'll let you know.
.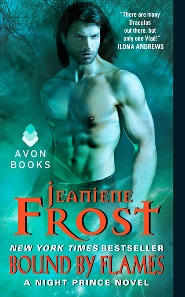 If you aren't already aware, Bound By Flames comes out January 27th and here is an abbreviated description:
Vlad must battle with a centuries-old enemy whose reach stretches across continents and whose strength equals his own. It isn't like Vlad to feel fear, but he does...for Leila, because his enemy knows she is Vlad's greatest weakness. As friend and foe alike align against him, Vlad's love for his new bride could be the very thing that dooms them both...
For a full description plus excerpt links and downloadable wallpapers, go 
here
. Pre-order: 
Amazon
, 
Barnes&Noble
,
iBooks
,
BooksAMillion
, 
Powells
,
 Indiebound
That's it for now. Hope everyone is having a good November so far!
Hi again! Yes, it's been three weeks since I last posted, but it was a busy three weeks. I did four sets of revisions on Bound By Flames (first from my critique partner, second from my editor, third from my copy editor, and fourth making corrections/proofreading the galley pages), plus, sold a house and moved. This week, I'm taking a little breather, although I still have to clean out my inbox and that is a somewhat daunting task. Because it's been a while since I blogged, I've got a bunch of updates, so please bear with me. Vlad and Leila fans, be sure to read until the bottom. As the subject line says, I have some big news for you :).
Ilona Andrews
.
Burn For Me
, the first book in her new Hidden Legacy series, comes out tomorrow (October 28th). Because Ilona and I often critique read for each other, I was lucky enough to get an early look at this. Now, I am a rabid Kate Daniels fan, but in all honesty, I think I might like this new series more *ducks to avoid heavy objects that Kate and Curran fans throw at me*. I know, I know, that's borderline blasphemy, but seriously, this new world is great and the characters rock!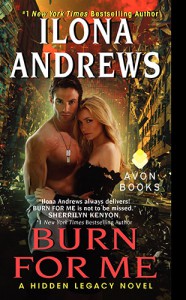 Here is the back cover description.
#1 New York Times bestselling author Ilona Andrews launches a brand-new Hidden Legacy series, in which one woman must place her trust in a seductive, dangerous man who sets off an even more dangerous desire . . .
Nevada Baylor is faced with the most challenging case of her detective career—a suicide mission to bring in a suspect in a volatile situation. Nevada isn't sure she has the chops. Her quarry is a Prime, the highest rank of magic user, who can set anyone and anything on fire.
Then she's kidnapped by Connor "Mad" Rogan—a darkly tempting billionaire with equally devastating powers. Torn between wanting to run and wanting to surrender to their overwhelming attraction, Nevada must join forces with Rogan to stay alive.
Rogan's after the same target, so he needs Nevada. But she's getting under his skin, making him care about someone other than himself for a change. And, as Rogan has learned, love can be as perilous as death, especially in the magic world.
***
To celebrate the release of Burn For Me, Ilona has a joint signing tomorrow (October 28th) with Kim Harrison at 6:30 at
Murder By The Books
, so if you're in the Houston, TX area, you get to meet two great authors at the same time.
As mentioned, I loved
Burn For Me
, but since Ilona is a dear friend, it could be argued that my opinion is biased. Therefore, in the interest of objectivity, I'm linking some reviews from bloggers who aren't BFF's with Ilona, so their opinions are impartial:
"So I mentioned the great characters, the phenomenal world-building, and the scorching sexual tension. But I also have to give a shout-out to the awesome pacing and funny, funny one liners."
Red Hot Books
.
"Bottom Line: Exceptional story, multi-layered plot, intriguing characters that you really want to see more of, add all that to some nice little perks for veterans and you have a story that is hard to beat with enough similarity to our own world to make you feel at home."
Douglas Meeks
"This book directly made it to my Oh-My-God-This-Is-So-Amazing-What-Just –Happened list."
Aarati's World
"BURN FOR ME is an utter treat. From the amazing world, to the incredible cast of characters, and enthralling plot, this book should be at the very top of any urban fantasy fan's TBR pile."
A Book Obsession
As for me, my edit letter for Bound By Flames is due to land in my inbox today, so soon I will be revising. Did I mention that writing "The End" really just means "Take One"? ;).
</div>
Many of you probably know that I am friends with author
Links
page, but today, I'm happy to talk about a specific author/series in one of my favorite subgenres: vampire fiction (you're shocked, I know! :)).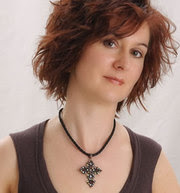 New York Times bestselling author
Colleen Gleason
(who also writes under the name Joss Ware) originally released the Gardella series back in 2007 - 2009. I gobbled up the books because they're vampire novels with a kick-ass heroine and two heroes that are so drool-worthy, I kept going back-and-forth on which one I wanted to win the heroine. Our heroine, Victoria, starts the series as pretty innocent and idealistic, and watching her grow into her abilities, determination and general bad-ass-ness was a true pleasure. The hotness in the series didn't hurt my enjoyment of the books, either *wink*.
If you haven't already read the Gardella series and you're looking for something fanged and fabulous, good news: Colleen is re-releasing the entire Gardella series. THIS WEEK ONLY, book one in the series, The Rest Falls Away, is on sale for only $.99 in ebook.
Click the picture below to be taken to the series page on Amazon
. For more information about the series, go
here
. Happy reading, everyone!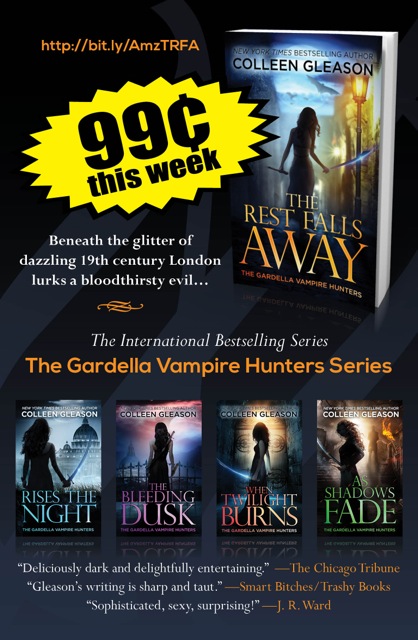 I'm frequently asked about authors that I enjoy reading. I have a list of them on my