Many of you know that I'm friends with Ilona Andrews. She's a #1 New York Times bestselling author and all-around great lady (plus, if you ever get the chance, ply her with Long Island iced tea! I promise that hilarity will ensure

).
A while ago, Ilona started releasing free bits of a new paranormal serial story online (I described it as "Men In Black" meets the UF genre). Readers, not surprisingly, clamored for more. Eventually, Ilona decided to have the story professionally edited, commissioned original digital artwork for the characters as well as the book cover, and re-released it in its entirety for purchase. As you can imagine, she had quite a few people tell her that she was putting too much time, effort, and money into something that wouldn't pay off because she'd previously posted the story for free.
CLEAN SWEEP, the first story in the Innkeeper Chronicles, released this week on Amazon and B&N, where it's currently rocking a 5-star review rating and a kick-ass sales ranking. Of course, I couldn't be happier for Ilona. I also think it's really cool that CLEAN SWEEP has character artwork pasted right into the story. Aside from comics or graphic novels, I can't remember seeing that in regular ebooks, but I wouldn't mind if it become a trend. Here's the info on CLEAN SWEEP, if you want to check it out:
On the outside, Dina Demille is the epitome of normal. She runs a quaint Victorian Bed and Breakfast in a small Texas town, owns a Shih Tzu named Beast, and is a perfect neighbor, whose biggest problem should be what to serve her guests for breakfast. But Dina is…different: Her broom is a deadly weapon; her Inn is magic and thinks for itself. Meant to be a lodging for otherworldly visitors, the only permanent guest is a retired Galactic aristocrat who can't leave the grounds because she's responsible for the deaths of millions and someone might shoot her on sight. Under the circumstances, "normal" is a bit of a stretch for Dina.
And now, something with wicked claws and deepwater teeth has begun to hunt at night… Feeling responsible for her neighbors, Dina decides to get involved. Before long, she has to juggle dealing with the annoyingly attractive, ex-military, new neighbor, Sean Evans—an alpha-strain werewolf—and the equally arresting cosmic vampire soldier, Arland, while trying to keep her inn and its guests safe. But the enemy she's facing is unlike anything she's ever encountered before. It's smart, vicious, and lethal, and putting herself between this creature and her neighbors might just cost her everything. This is a short novel, about 60,000 words. Read an excerpt.
Amazon | BN | Amazon UK | Additional retailers will be added as the upload goes through.
Mirrored from Frost Light.
Hi everyone! Back when I announced the new NA series that I'm writing, I mentioned that the series title of "Realmwalker" might change. Well, last week I heard from the peeps at HQN that it had indeed been kicked back and a new series title would need to be picked. (Side note: This isn't unusual. I'd initially called my Cat and Bones books the "Red Reaper" series, but Marketing/Publicity thought that was too horror-ish, so after some brainstorming, we came up with the "Night Huntress" series.)
Anyway, back to the NA series. After many ideas had been suggested and discarded, I took to Twitter to get some help. Lots of you Tweeted me with great suggestions (much better than mine had been! Lol) but of course, only one could be chosen. Bogo_lode from Twitter submitted the suggestion that me, my agent, my new editor, and the Marketing team at HQN loved, so now, my upcoming NA series will be called…
The "Broken Destiny" series. Book one, The Beautiful Ashes, releases September 2014.
I can't release the back cover description yet – and I SO want to! – but look for more information about this coming soon

.
And now, to the winners of last week's contest featuring a free digital audio book download of Once Burned. I said there would only be seven winners randomly selected, but HarperAudio graciously sent me more download cards, so I was able to select twelve winners instead. All winners have already been notified by email (check your email if you entered!) and here are their names:
Gecci73, Karyn S., Star H., Susan C.,Barbara B., Sue M., Marcia D., Valerie L., Krista D., Amanda M., Sarah M., and Kimberly J.
Congrats to the winners! If your name isn't there, sorry, but I WILL be holding several more contests between now and the end of the year, so check back! Arc contests for Up From The Grave will be among them.
That's it from me for now. Happy Thanksgiving, and Happy Hanukkah, too!
Mirrored from Frost Light.
This post will be all over the place, as the subject line implies. To start, thanks so much to the reviewers at Romantic Times! Twice Tempted is one of the nominees for Best Vampire Romance. Last year, Vlad took home the trophy in this category for Once Burned, so it's extra flattering to see his second novel get a nominee nod. For the full list of categories and nominees, go here.
Next, my publisher is working on signing stops for Up From The Grave's release, and while several stores are still pending*, here are a few that have already confirmed:
January 28th, Malaprops , Asheville, NC. Time tbd.
February 1st or 2nd, Booksellers At Laurelwood, Memphis, TN. Specific date/time tbd.
February 15th, Turn The Page, Boonsboro, MD. Time tbd.
As mentioned, more stores and information to follow once I have it.
Switching gears, Ilona Andrews has an excellent post on her blog about NaNo, or National Novel Writing Month. I second Ilona's comments**, with an added admission that if I didn't give myself permission to write "crap" I wouldn't get anything written at all. My internal editor is a nasty bitch who tells me that nothing I write is good enough, and if I didn't gag that inner editor before I sat at my keyboard, I'd never be a published author (I do, however, un-gag her during revisions so she can tear the completed manuscript a new one

). The point is, just because NaNo advocates writing more than revising at this stage of the process, doesn't mean its purpose is to have writers query/self-publish first drafts that were written as fast as possible. To me, it's more a place where writers can get encouragement to keep plugging away at their story while knowing full well that edits, re-writes, and further work will come. To that I say, right there with you, NaNo-ers, and best of luck.
Next up, two*** different sites are doing read-alongs of the Night Huntress series in anticipation of Up From The Grave's release. All Things Urban Fantasy has already completed Halfway to the Grave and they're starting One Foot In The Grave next week, with some added behind-the-scenes commentary from me that I've never revealed in public before.
Also, Literary Escapism starts their Night Huntress re-read on December second. They even made a cool icon for it (I'm a sucker for pictures!) At the end of it in January, I'll be popping by their site for a Q&A.
Finally, here's a head's up that I'll be running giveaways soon on my blog, plus posting snippets from Up From The Grave, so be sure to check back if you don't want to miss those

. Now, back to writing. Happy Friday, everyone!
* Please don't ask "Are you coming to ______ city?" because I don't know yet. My publisher is setting up the schedule, and as soon as I know where/when I'm going, I promise to pass the information along.
**Although I don't write every day. On deadline, I write 5-6 days a week. If I'm not on deadline, I will happily take a couple weeks away from writing to clear my brain from the previous novel. Longer if possible.
***There may be more sites doing NH re-reads, but I don't know, and anyhow, I can't participate in every re-read because I'm on deadline.
Mirrored from Frost Light.
Among other things, November is when the online group NaNo (for National Novel Writing month) kicks off, with the goal of supporting writers who want to start and/or complete a novel during the month of November. If you're participating in NaNo and you could use an example of someone struggling with their art more than you*, I give you Angry Guitar Man. I saw clips of this video while watching World's Dumbest recently, and in between fits of laughing, I also felt a twisted sort of empathy. Although I've never kicked things, destroyed my creative instrument (a computer, since I'm a writer) or sworn quite so vehemently, this is a pretty good example of how frustrated I've felt on the inside when I'm working on a scene that just isn't coming together

.
Warning: Not safe for work, children, or pretty much any place in public! Angry Guitar Player drops more F-bombs than my character Cat in her foulest mood, and no guitar is safe around him.
Click here to watch the video on YouTube.
*Or, like me, you're a writer on deadline and time seems to be moving at an accelerated pace although your word count isn't.
Happy Monday, everyone!
Mirrored from Frost Light.
Before I go into detail about the wonderful time I had at the Southern Magic luncheon, a reminder that Home For The Holidays, Cat and Bones 6.5 (calling it that because it takes place after the events in One Grave At A Time), is out today. This novella previously appeared in The Bite Before Christmas anthology, so if you already read that, then it's not new to you

. If you didn't read that, however, now's your chance to catch up with Cat, Bones, Ian (yes, Ian fans, he has a large role in this!), and the rest of the gang while discovering some big secrets that will rock the characters' lives. As a special sneak peek, you can also read the prologue and first two chapters of Up From The Grave at the end. Order at:  Amazon, B&N, Kobo, Sony, iTunes, or your favorite ebook retailer. To celebrate Home For The Holidays' re-release, I'll be on the Avon Romance blog this Thursday, answering your questions from 3-4pm EST. If you can't make it, but you still want to ask me a question, go to the Avon Romance blog and post your question there. I'll get to it, time permitting.
And now, on to the Southern Magic Romance Readers luncheon that took place this past Saturday. This was one of the most well-run events I've attended, which means the coordinators probably hadn't slept for a month leading up to it. Publishers Weekly romance blogger Barbara Vey was one of the special guests, and before the luncheon, I had a chance to chat with her. As always, she was funny and gracious. Look for her write-up about the weekend here. Once the events started, the lovely Amanda Kin took me everywhere I needed to go (who told her I'd get lost if left to my own devices?? *wink*). SM President Mary Freeman was so kind, I told her I was going to be her future stalker (she think I'm kidding *cue evil laughter*).
I could go on about the countless other people who made this event so special, but let's get to the event itself. It's more than a simple lunch, for those of you not familiar. It's about a five-hour event with food, giveaways, signings, speeches, and videos. To start, each attendee received a gift bag filled with books, and then dozens of additional gift bags/baskets were given away during the festivities.  I don't know exactly how many were handed out because I lost count. To give you an idea, here's a picture* of Tavia Gilbert at the podium, surrounded by what might have been only a third of the giveaway bags: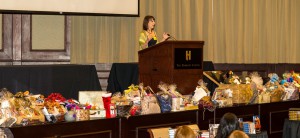 Speaking of Tavia, I finally got to meet the audio narrator of all my books!  Tavia is as sweet as she is talented. About a hundred lucky readers got to take a free digital download of the audio version of Once Burned, courtesy of Harper Audio. For those who didn't get a free audio book, they were treated to Tavia's narration live when she read aloud from four different scenes in the Night Huntress series, wowing people with her ability to do various accents and to make small snippets come alive. Avon Books also provided several free copies of One Grave At A Time for every table at the luncheon. Thanks so much to Avon and Harper Audio for the freebies!
Author Christy Reece (a.k.a. Ella Grace) was the Welcome speaker for the luncheon. She started her speech off  by asking everyone to bear with her because she wasn't funny. I think those present would agree this was a total lie because she was absolutely hilarious. I hope I can find a video of her speaking about her "process" when she writes a book, first because I want to see it again, and second, when anyone asks me what my process is, I can then just direct them to that. It pretty much sums up the emotional roller-coaster I feel while writing a book. I laughed so much during Christy's illustrated speech that I forgot to be nervous about my own, and believe me, that took some doing.
I'm always a little anxious about speaking in public. I'm not the most outgoing person to begin with, and most of my job basically entails me to be a paid shut-in

. On panels, it's easier because there are other authors speaking, we usually have a topic to adhere to, and reader questions move the conversation along. This was more nerve-wracking because I was the only one talking, attendees couldn't participate, and while I had written an outline, I deviated from it at some point (now everyone at the luncheon knows what my editors have to put up with!) The result was probably more rambling than I'd wished for, but I hope that I conveyed how much I appreciate the sense of community that happens when readers come together. Book lovers, you rule!
After my speech, there were more giveaways, more readings by Tavia, and a couple great videos. The first was set to Bonnie Tyler's "I Need A Hero" and showed a lot of swoon-worthy examples. Next was a hilarious video of author Naima Simone  dancing to Salt 'N' Pepa's "Whatta Man" against a backdrop of more male hotties (and I swear, if I had moves like Naima, I'd dance every night!) Also, congrats to Naima on being Southern Magic's 2014 president. And speaking of Southern Magic 2014, author Sylvia Day was announced as the keynote speaker, with Naima Simone as the Welcome Speaker. Sounds like a blast!
Finally, there was the author signing. Dozens of authors were present, so readers had a great selection to choose from. I got a chance to see some familiar faces, meet some people I know from online, and meet a bunch more "new" people. Tavia was also signing next to me, so readers who wanted got their books autographed from both the author and the narrator. Thanks to everyone who came by our table! We had such a good tome chatting with you.
In case you can't tell – heh – I highly recommend the Southern Magic Romance Readers' Luncheon. If you're in the Alabama area, check it out if you can. I think you'll really love it.
*Photos posted with permission from Steve Knight of Dark Knight Photography. To see more convention photos from Steve, go here.
Mirrored from Frost Light.
This post will be a mixed bag of topics. First, in anticipation of the final Cat and Bones novel, All Things Urban Fantasy is doing a read-a-long of the Night Huntress series. I'll be including behind-the-scenes tidbits on each book as it gets its turn, and at the end, Avon Books is giving away a grand prize. If you want to relive Cat and Bones from the beginning, or you're not caught up on the series yet, be sure to check it out.
Second, speaking of Up From The Grave, the first Arc giveaway went up on Goodreads last week. If you haven't yet entered, you can do so here. If you live in one of the countries that is not included in this giveaway, don't worry. I'll be hosting more on my blog, probably closer to the holidays, and they will be open to all countries.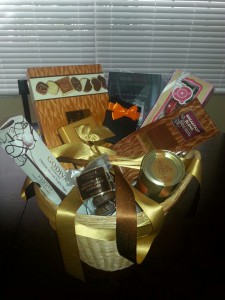 Third, in a prior post, I asked readers for ideas on what to fill my Southern Magic giveaway basket with, and wow, did you come through! Thanks to your input, here is the basket. It contains three boxes of chocolate from Godiva, one package of chocolate-covered Oreos from Godiva (had to smack hubby's hand to keep him from filching those!) a tin of Godiva milk chocolate cocoa, a bag of Godiva coffee, a package of small, scented candles from Yankee Candle, a new Kindle Fire HD, an Amazon gift card, two Frost Shop coffee cups, and my entire signed backlist (10 novels in total) beneath the goodies. You can't see the coffee cups very well, but one says "Lucifer's bouncing balls, Kitten, not again!" and the other says "Mrs. Bones" on the front and "If you run from me, I'll chase you, and I'll find you" on the back.
Thanks again to everyone for your input on the basket! I think the winner would thank you, too, if he/she could

.
Finally, speaking of the Southern Magic Romance Readers luncheon, I'm leaving tomorrow to head on up to Alabama. The luncheon is on Saturday, November 2nd. Hope to see some of you there!
Mirrored from Frost Light.
As I mentioned before, on November 2nd I'll be at the Southern Magic Romance Readers' luncheon in Alabama. Aside from being the keynote speaker – which means giving a half-hour speech that will hopefully not turn into a rambling mess – I'm also providing a gift basket for a giveaway.  My inclination is to fill the basket with these things:
Coffee (does life exist without it?

)
A new e-reader (take home books without more things to pack!)
A gift card for said new e-reader (what's a new e-reader without a little something to help fill it?)
Chocolate (what goes better with coffee and books?)
However, since this gift basket isn't for me (or I would totally do the above because books, coffee, and chocolate are my favorite things!) I'm asking for your input. If you were the winner of the gift basket, what would you hope it would contain? Remember, new houses, winning lotto tickets, jewelry, and handsome actors are outside my budget range *wink*
Mirrored from Frost Light.
I am copying this (with permission) word-for-word from Ilona Andrews' blog:
"A boy hung himself the day before yesterday. My youngest daughter had several classes with him, first in middle school, and then in high school. He used to sing to her. She says he had a beautiful voice. Yesterday she went to a candle light vigil at his apartment.



Mom, this was the worst thing I ever been to. There was this woman and she had a bottle of vodka in her hand and they started playing music from Michael's iPod. She fell on the ground and started screaming that Michael liked that song. The noise she was making, it was just like… pain. It wasn't even crying. It was pain. And then Diego had to get her off the ground because we were afraid she would hurt herself. It's not at all like the movies, when people cry. The sound people made there, it was horrible. It was so sad. Everyone was crying and I cried too, because he was in my biology class and he was so nice and now he is dead and his seat will be empty. I don't know how I can do it.
If you're reading this, and you're a child who thinks of ending his or her life, this is what you will leave behind. This is what it's like after for everyone who knew you. Death is forever. Everything else can be fixed. Those who jump off a bridge and survive say they regret their decision to end their lives while still in mid-air. That's how little time it takes to realize that all of the crushing things in your life can be changed. Read this.
There are other options.
National Suicide Prevention Lifeline. 1-800-273-8255
***
This is the second teen suicide in two years we lived here. In both cases, my daughters knew the children, but this is the first time my youngest daughter experienced the raw human grief. It's a terrible thing. There is nothing really to be added to that.
Michael did tell someone he was going to kill himself and that person told him that he shouldn't threaten with something like that unless he meant it. Turns out he did. That person now has to live with the weight of that and the guilt for the rest of their life. I understand this. Teenagers frequently threaten to kill themselves. It's almost casual. I failed an algebra test, I'm just going to kill myself. I'm grounded, I'm just going to kill myself. Ninety nine percent don't mean anything by it. But some of them do, and it's horrific and awful, and suddenly children who knew them realize that they are not immortal and life ends. As parents, we end up taking every single threat seriously.
Yesterday my kids carved pumpkins with their friends. They had pizza and fried chicken and soda and watched the dogs play in the yard. Less than two miles away a family was making funeral arrangements for their child. It's frightening. The kids wanted to know why. Why did he do it? There were a number of reasons. Was it because his father was incarcerated? Was it because some kids were mean to him at school? Why, why, why? His best friend has no idea. His sister, who is close to him in age, has no idea. They were going to do a duet at the talent competition and now she will never get to sing with him.
My youngest daughter wants some sort of answer. I don't know that there are any answers to be had.
You know, when kids are young, parents are like gods. They can fix anything. They can do anything. They can make everything better. Then as you grow up, you realize that there are limits to parental omnipotence. I can tell you right now I feel completely helpless. There is nothing to be done. No amount of candle vigils, posts about being sorry, and crying will fix it. A child is dead. He hung himself. It's too late."
Original post here.
Mirrored from Frost Light.
This post will be all over the place, as the subject line implies. First, I finished working on galley pages for Up From The Grave, which is always a humbling experience. Before we get to that, what are galley pages, some of you might be wondering? They are the formatted template for the final edition of the manuscript, so they look like unbound pages of a book. They can also be referred to as page proofs, galleys, and several four-letter words, if you're me.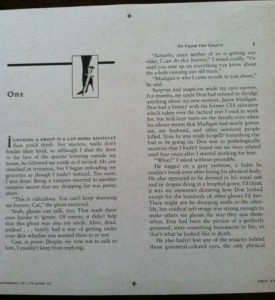 Why? Galley pages are the last chance for an author to make changes to their book. However, they can only be minor changes because by this stage, a book has already been through editor revisions and copyedits, so it's too late to decide that you want to write a whole new plot. By this time, I can't count all the times I've re-read my book because I revise while I write, plus send my book to at least one beta-reader, then revise again after their feedback, and this is in addition to the required publisher revisions. With all this re-reading, you'd think the book would be very clean at this stage, right?
WRONG.
I don't know what it is about seeing my stories formatted this way, but it makes errors I've been blind to the other four dozen times I've read it jump off the page at me. Every time I get to the galley stage, I feel like I should sit in a corner wearing a Dunce cap for not seeing these mistakes before. For example, in Up From The Grave, I have one side character's hair color changing from sandy-colored to auburn, another side character's eyes changing from green to blue, the same state changing from West Virginia to Virginia, seasons changing from winter to summer while skipping spring, and at least one historical inaccuracy. While these things will be corrected for the final, published version, reviewers and readers who get an Arc (advance reading copy) of Up From The Grave will see it in all its error-ridden glory. :::headdesk, Dunce cap, headdesk::: My apologies, early readers and reviewers!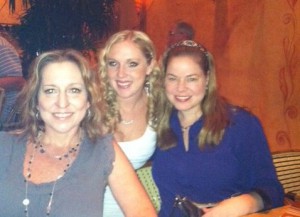 Next up, a personal side note: My niece Lauren is getting married this weekend (middle one in the picture). She's three years older than I was when I got married, and yet I still can't process this on an emotional level. The reason I was always bleary-eyed during my first period class in my Senior year of high school was because of my niece. At that time, my sister had moved back home and six-month-old Lauren's nursery was connected to my bedroom through an air conditioning vent. That meant every time little baby Lauren needed a new bottle and a clean diaper during the night, her cries would echo right into my room. I soon learned that it took more time to wake my sister than to fix the bottle and change her diaper myself, so that's what I did.
And now she's getting married and talking about starting her own family. I will probably break down in tears at her wedding. "Time flies" doesn't even begin to cover this one.
Finally, if you're in the Alabama area, I hope you can come out to the Southern Magic Romance Readers' luncheon on November 2nd.
Doors open at 11:00 am.
The Harbert Center
2019 4th Ave N
Birmingham, AL 35203
This is my last public appearance for 2013. I will be signing books and chatting with whoever wants to talk. Hope to see some of you there!
Mirrored from Frost Light.
I met my fabulous Harlequin editor, Margo Lipschultz, over the weekend, and she gave me the green light to share the title on my upcoming New Adult novel. So, without further ado, the first book in the new Realmwalker series (actually that might not end up being the series title, so stay tuned) is…
The Beautiful Ashes. Release date: September 2014.
I'm so happy with the title because ashes play a metaphorical and literal role in the novel. Speaking of The Beautiful Ashes, if you want to read a snippet from it, I posted one during my interview today over at Romance Magicians. They're also giving away one of my ebooks, so head on over to their site if you're interested.
As a reminder, my last public appearance this year will be at the Southern Magic Romance Readers' Luncheon on November 2nd. For more details on the luncheon, go here.
Now, back to writing

.
Mirrored from Frost Light.