So, until further notice, I'll be absent from my blog and there will be a delay responding to any emails or messages, either sent directly to me or through my social media accounts. For any urgent business matters, please contact my agent, Nancy Yost at Nancy Yost Literary Agency.

Thank you.
I wanted to let everyone know the reason for the blog silence lately. About two weeks ago, my dad was diagnosed with three blocked arteries to his heart. This was the same thing that caused my mother's fatal heart attack four months ago, so I came down to be with him for his heart surgery. His triple bypass surgery went well, however, he has had several post-operative complications. The worst one has been pneumonia, and because of that, he is now on a ventilator. My family and I are hoping that his lungs will heal with the antibiotics and other treatments he is getting, but as you can imagine, things are very touch and go right now. Any prayers or good thoughts that you can send for his recovery would be greatly appreciated.
Sorry for the blog silence lately. I went out of town last week to visit my dad, and somehow during that trip, I threw my back out. The pain had me convinced that I must have herniated, bulged, slipped, crushed or otherwise done major damage to a disc, so I dismissed my husband's assertion that I'd only pulled some muscles. That couldn't be all it was – I couldn't get out of bed without looking like an upside-down turtle, and every move I made sent pain shooting through me as if I were being stabbed!
One trip to the Emergency Room later, and my husband's diagnosis was confirmed. My discs and spine were fine, so it was just pulled muscles combined with spasms. I am now on muscle relaxers and pain killers, which allows me to move around without constantly squealing in pain (thought I was the strong, stoic type? You thought WRONG ;)) but also gives me the mental capacity of a toddler. However, when I saw my editor Tweet about this week being our 10 year anniversary working together, mental mush or no, I couldn't let the day go by without marking the occasion.
I remember exactly what I was doing ten years ago. I was working full-time in data processing for a telemarketing company, and I was starting to lose hope of ever being published because the first round of editors that my agent had sent my book to had all passed on it. We were now on the second round of editors, and it had been a couple weeks with no word from any of them, either. I had become so despondent, I no longer hit "refresh" on my inbox every ten minutes (if you're an aspiring author on submission, you know exactly how that feels.) Then, at lunch time, I saw that I had an unread email and I clicked on it. Here is what it said:
"Dear Jeanniene:
We have an offer for HALFWAY TO THE GRAVE! It's from Erika Tsang at HarperCollins / Avon Books.$20,000 each for two books. (HALFWAY & the next one.)
May I accept this offer? Please call me at [redacted] to discuss! I'm at Book Expo America (BEA) right now in Washington D.C. (I will also be checking my e-mail later today.) I'm sorry I don't have your phone number with me, but please call me ASAP."
I must have screamed when I read this. I don't remember doing that, but my boss ran into my office and said "What's wrong?" while looking around to see if the computers had blown up or something. I pointed at my email and said "Read that and tell me if it says what I think it says." Yes, I had suddenly lost all ability to comprehend the written word because it could not say that someone wanted not just one of my books, but two of them, and for more than I made in an entire year at my full-time job.
He read it, and soon he and my coworkers were all congratulating me. I called my agent and screamed something like "Yes, accept it quick before she changes her mind!" Then I called my husband. I was pretty much babbling with delirious excitement by this time, so all he heard was "two books" "published" and "40K." Very gently, he said, "Honey, I know you really want this, but we don't have 40K to pay to get your books published." To which I replied, probably still in hyper-babble, "We're not paying that, they're offering to pay ME 40K to publish my books!"
I've been with my husband for over twenty-five years, and I can only remember three times that he's been rendered speechless. This was one of them. I had to read the entire email to him twice before it sunk in. To tell you the truth, I kept reading it over and over that night myself, and it still seemed too good to be true. In fact, I was so convinced that this couldn't be happening; I wouldn't have been surprised if the next day, I heard "Sorry, Erika changed her mind and she no longer wants the books."
That didn't happen, of course. Later, I found out that Erika had made the offer before she'd even finished reading Halfway To The Grave (imagine her surprise when she eventually did get to the ending! Heh.) Erika has since been my editor for every vampire novel and novella I've published, and ten years later, I am still endlessly grateful that she took a chance on a debut paranormal romance with an unconventional ending by an unknown author who had no platform, publishing connections, blog following, or anything else to recommend her.
Once again, thank you, Erika, and happy 10th anniversary 🙂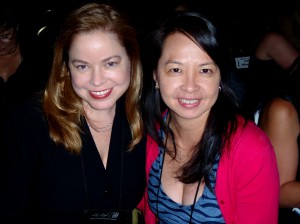 Mirrored from Frost Light.
Around the middle of January, I found out that my dog Gypsy needed double surgery: one to fix a ruptured tendon in her back leg, another to fix an ulcer in her eye. Since Gypsy is twelve, general anesthesia is risky and the recovery time for her leg was over two months with her in a cage. Before anyone says "So? She's just a dog," I love Gypsy and my other dog, Loki, as if I were blood related to them, and since Gypsy has been with me for the past twelve years, I am ridiculously attached to her. Thus, this was/is a big deal to me.
Back to the surgeries. Gypsy's leg and eye surgery went fine, so we moved out of state about two weeks afterward as planned. Two weeks after that, Gypsy's eye started to act up again. We took her to a new vet, who informed us that her eye ulcer was back and she needed another surgery. So, Gypsy had her second eye surgery, which also required at-home care consisting of 4 different medicated eye drops four times a day, spacing each drop at least five minutes apart (that's a total of 16 times a day my hubby and I would have to hold her down, squirt drops in her eyes, then keep her in the Cone of Shame so she didn't scratch her painful eye and make it worse. Gypsy was as upset about this as I was, because you can't explain to a dog that this is for their own good. Instead, she probably thought that we were only torturing her for our own inexplicable, cruel amusement.)
About two weeks later at her recheck appointment, we got more bad news from the vet: Gypsy's eye ulcer still wasn't healed and she needed a third surgery. That would also mean another two weeks of four different eye drops a day, four times a day, and if her ulcer became infected, her condition would go from bad to worse. So, eye surgery number four happened. About ten days later at her next recheck, we received more bad news: the ulcer had healed in the old spots, but
new
ulcers had cropped up. The vet surmised that Gypsy's age caused a degenerative issue where fluids in her eye weren't being dispersed as they should be. Instead, they built up until they "bubbled," causing the ulcers. The vet proposed a new, more extensive corneal procedure that would produce scar tissue on her cornea, with the hope that the scar tissues would act as a shield against this bubbling up. Then, more at-home care with the eye drops would help her eye to disperse fluids as it should naturally. But, there was a catch: because all previous procedures had failed, if this didn't work, then the only other option would be to remove Gypsy's eye entirely.
We went with the more extensive, fifth eye surgery and the 4 drops, 4x a day at-home follow up care. For the past two weeks, I have been bracing myself for the worst because, to be honest, 2016 has kinda sucked so far (my mother's unexpected passing, a book release being pushed back over a year, pre-orders getting erroneously canceled, moving issues, more business issues, family issues, this, etc.) So, I was expecting to hear that the Gypsy's eye hadn't healed and we'd need to have it removed. Aside from how upsetting this would be for me, it would be worse for Gypsy, who would have to undergo another risk with surgical anesthesia, risks of infection after the surgery, visual limitations from losing an eye, plus be in a cone for another few weeks, which she hates and the poor thing has already been in a cone for three straight months.
In fact, I had so prepared myself for bad news that yesterday, when the vet told me all of Gypsy's ulcers had finally healed, I didn't believe him. I spent the rest of the day expecting him to call and say some version of "Psyche!" Today, the relief is setting in at last, and I hope that this good news heralds a brighter 2016 to come.
In closing, Gypsy's vision is a little limited in one eye now, but she still has both of them, and we have finally been able to put away the Cone of Shame. I will spend the rest of the day enjoying that good news, and when she comes in for her usual pets this afternoon as I'm writing, it'll make me smile even more than normal :).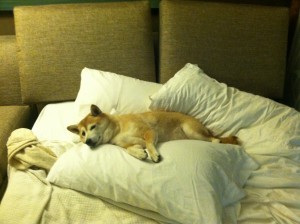 Note: This post is about personal stuff. Skip if you only want professional updates.
Sorry for not getting this post up yesterday, however, all of the winners were notified by email yesterday, so if you see your name below, check your email! :). And now, to the winners of the Thank You contest! As mentioned before, only the winners' first name and the initial of their last name will be posted to protect privacy. The winners are…
Christina R., Jennifer E., Sherry C., Samantha C., Colleen B., Julie R., Dorothy D., Robin L., Victoria K., Maria W., Jeanne D., Hephzibah R., Pamela G., Dannah M., Van P., Diana S., Karin A., Amie S., Julie S., Linda R., Candace B., Sherry S., Jamie M., Denise S., and Joella P.
Congrats, everyone! Please be sure to reply to your email to let me know which book you want and/or which format.
To everyone else, sorry you didn't win, but I will be sure to post more contests in the future :).
Mirrored from Frost Light.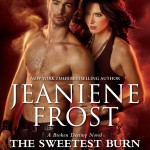 Hi folks. I know that today is April Fools and lots of people are doing gag posts, but this is not one of those. Instead, I wanted to update you on what's going on with pre-orders for The Sweetest Burn, book two in the Broken Destiny series. Some of you might have received notices from your retailer telling you that your pre-order was cancelled. Here's what happened: some retailers had the book set up all wrong in their systems. In an attempt to fix that, an update went out from my publisher to have the book's info re-keyed so everything would be correct. However, due to a glitch, The Sweetest Burn was instead pulled from all the major retailers and the pre-orders were canceled.
Now, thankfully, the pre-order links are back up on Amazon. However, they're not on B&N, Books A Million and Powells because those sites don't list pre-order links for books with release dates more than a year out, and as most of you know, the release date was pushed back to June 2017. All readers who received a cancellation from Amazon for The Sweetest Burn should get another email asking if you would like to reinstate your pre-order. As far as I know, your pre-order will NOT be reinstated automatically. You will have to authorize another pre-order, which protects readers in case they had previously pre-ordered the first time in error, or, if readers have since changed their mind about what format they want the book in (ebook, print, or audio.)
However, if your pre-order was cancelled and you don't get an email from your retailer asking if you want to re-order your pre-order (try saying that fast three times!) you can just re-order it on your own if the link is live.
I know that ordering/re-ordering is a pain in the butt, and I am sorry.  Please know that I so appreciate your patience in this midst of this. But, why express my gratitude to you with only words when I can also do it with free books? So, I'm holding a contest where I will pick 25 winners and each winner can choose one book of their choice from my backlist. Winners who live in the US can choose to receive their book in either ebook or paperback format (international winners can only receive their book in paperback due to ebook restrictions between countries.) Not sure which book you want? Check out my Reading Order to see what's available.
To enter, please follow the rules below:
1. Send an email to  jeanieneprizes AT gmail DOT com.  (obviously replace the "AT" with an "@" and the "DOT" with a "." in your email.)
2. Make sure to include your name, the email address you want to be contacted at if you win (if it's not the email you're sending your entry from) and which book from my backlist that you want.
3. You can only enter ONCE. Duplicate entries will be deleted.
4. Contest starts NOW and ends Wednesday, April 6th at 11:59pm EST. Winners will be announced the following day on my website blog.
Good luck, everyone, and thanks again!
Mirrored from Frost Light.
Good news, audio readers! One For The Money, my Cat and Bones novelette that previously appeared in the Death's Excellent Vacation and the Magic Graves anthologies, is now available as a single title in audio.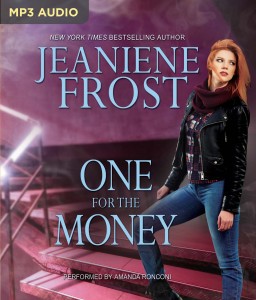 Description: Vampires Cat Crawfield and her husband Bones's romantic vacation is interrupted when they're enlisted to guard a spoiled heiress with both human and undead hitmen on her tail. Things quickly go from bad to worse when details of their assignment make their way through the supernatural grapevine, and what started as a simple bodyguard job ends up being a fight for survival that neither Cat nor Bones saw coming.
Author's note: This story is a stand-alone, but if you want to know where it falls in the overall series timeline, One For The Money takes place after the events of Destined For An Early Grave, and before the events of This Side Of The Grave.
Longtime audio readers might be wondering why this story is not narrated by my regular narrator, Tavia Gilbert. Before you worry, it's not because I'm switching narrators. It's just that One For The Money was originally narrated by Amanda Ronconi years ago when she did the entire Death's Excellent Vacation anthology. However, until a few days ago, in order to listen to One For The Money, you had to buy the entire anthology instead of getting the story on its own. Now, the choice is yours as to whether you listen to the story as a single or as part of a whole.
Order your copy or listen to a sample at Audible.com, iTunes, or your favorite audio retailer.
Mirrored from Frost Light.
I'm a day late in sharing this, which means some of you might have already seen it, but I'm still excited to share the cover for Into The Fire with you, which is the fourth – and final! –  Night Prince novel.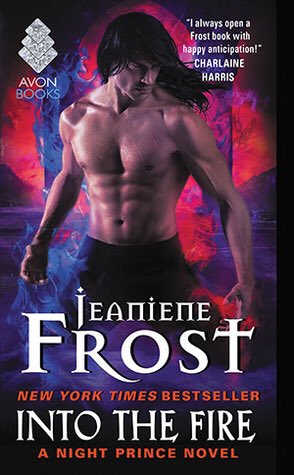 In the explosive finale to New York Times bestselling author Jeaniene Frost's Night Prince series, Vlad is in danger of losing his bride to an enemy whose powers might prove greater than the Prince of Vampire's…. 
In the wrong hands, love can be a deadly weapon.
For nearly six hundred years, Vlad Tepesh cared for nothing, so he had nothing to lose. His brutal reputation ensured that all but the most foolhardy stayed away. Now falling in love with Leila has put him at the mercy of his passions. And one adversary has found a devastating way to use Vlad's new bride against him.
A powerful spell links Leila to the necromancer Mircea. If he suffers or dies, so does she. Magic is forbidden to vampires, so Vlad and Leila enlist an unlikely guide as they search for a way to break the spell. But an ancient enemy lies in wait, capable of turning Vlad and Leila's closest friends against them…and finally tearing the lovers apart forever.
Into The Fire releases on October 25th, 2016. Preorder your copy here or at your favorite retailer: Into the Fire (Night Prince)
Mirrored from Frost Light.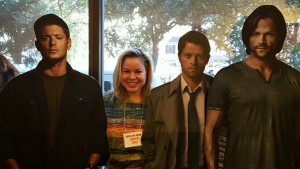 First, thanks to everyone who came out to see me at
ApollyCon
two weeks ago! I had a great time, first of course because it gave me a chance to talk YOU, readers, and second, because they had cardboard cutouts. I admit to being a total geek for cutouts, and here is me posing with one of them (I WISH this pic was real! ;))
Speaking of fun indie cons, last week, JUSTINE magazine did a fabulous write-up on the upcoming
Nola StoryCon
, which is hosted by me, Melissa Marr, Kelley Armstrong, Ilona Andrews and Jennifer L. Armentrout. The full JUSTINE article is
here.
As a reminder, we still have tickets available for the Crescent City Brunch, although the Nola VIP tickets are now almost sold out. To get your tickets, go
here.
After a migraine sidelined me from working Wednesday, I Tweeted this on Thursday: "My headache clearly isn't aware of all the pages I need to write. Stay back, headache, and migraine, don't even THINK about it." It was as if this Tweet was read by the King of Migraine-landia, who replied, "Your challenge has been accepted!" Cue another two-plus days of migraines. So, note to self: don't ever dare migraines not to show up again. They will take that dare, and then you will be sorry.
In good news, prior to migraines sidelining me for most of this week, I've been having fun writing
Into The Fire,
the fourth and final Night Prince novel.  Events at the end of Bound By Flames forced Vlad and Leila to explore the hidden world of magic, where things that are impossible for vampires are possible for sorcerers. This opens up all kinds of neat things to throw at Vlad and Leila that I wasn't able to do before because of prior worldbuilding rules, and I admit to being an Evil Author who loves to put my characters through the wringer. If that wasn't enough, Ian is Vlad and Leila's guide into this mystical underworld, and Ian can't help being Ian (Slut! Smartass! Scofflaw!) no matter the circumstances. I've giggled more than a few times while writing scenes with Vlad and Ian, who mix like oil and water.
And because I am BFF's with author
Ilona Andrews
and it cracked both of us up, the first sentence of Into The Fire is currently "Magic sucks." Readers of Ilona's fabulous Kate Daniels series will get the joke, but for those of you who haven't tried Ilona's books yet (they're excellent, try them!) every Kate Daniels novel has the word "magic" in the title just like all of my Night Huntress novels had the word "grave" in the title. So, Leila's internal monologue diss at magic made both Ilona and I snicker.
Speaking of BFF's who write excellent novels,
Melissa Marr
has a new faery novel out called Seven Black Diamonds. Marr's Wicked Lovely was my introduction to both faery novels and the YA market, and I couldn't be more thrilled that she wrote another take on faery lore with Seven Black Diamonds. Here is the description: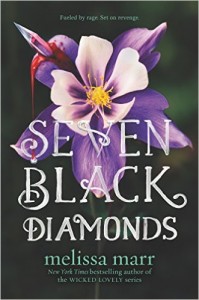 Melissa Marr returns to faery in a dramatic story of the precarious space between two worlds—and the people who must thrive there. The combination of ethereal fae powers, tumultuous romance, and a bloodthirsty faery queen will have longtime fans and new readers alike at the edge of their seats.Lilywhite Abernathy is a criminal—she's half human, half fae, and since the time before she was born her very blood has been illegal. A war has been raging between humans and faeries, and the Queen of Blood and Rage, ruler of the fae courts, wants to avenge the tragic death of her heir due to the actions of reckless humans.Lily's father has always shielded her from the truth, but when she's sent to the prestigious St. Columba's school, she's delivered straight into the arms of a fae Sleeper cell—the Black Diamonds. The Diamonds are planted in the human world as the sons and daughters of the most influential families, and tasked with destroying it from within. Against her will, Lilywhite's been chosen to join them . . . and even the romantic attention of the fae rock singer Creed Morrison isn't enough to keep Lily from wanting to run back to the familiar world she knows.
And since my opinion could reasonably be called biased, here's what others are saying about Seven Black Diamonds: "Fans of Marr's Wicked Lovely books will appreciate her melding of ancient faerie lore with complex contemporary characters." (Publishers Weekly)
"Once again, Marr has built an urban fantasy world that readers will find irresistible." (School Library Journal)
"Marr's trademark use of suspense and romance will make this irresistible for her legions of fans." (Booklist)
Order:  
Seven Black Diamonds
.
That's it from me for now. Hope all of you have a great weekend!
I'm off to ApollyCon in Savannah, GA. I went last year and had a fabulous time, so if you're in the area, I highly recommend that you check it out. Here is the info for the entire convention, and you can find me at the book signing on Saturday. Hope to see some of you there :).
FEATURING AUTHORS…
Mirrored from Frost Light.
Hi, all! At last, I can share the description for Into The Fire, the fourth and final book in the Night Prince series. Now, I wasn't given permission to share the entire cover yet, but no one told me that I couldn't share a piece of the cover (Ha! Details are important, publisher! ;)) So, here is the entire back cover description and a peek at part of the cover for Into The Fire. Yes, the model is once again Paul Marron, and once again, he has been denied a shirt *snickers*.
In the explosive finale to New York Times bestselling author Jeaniene Frost's Night Prince series, Vlad is in danger of losing his bride to an enemy whose powers might prove greater than the Prince of Vampire's…. 
In the wrong hands, love can be a deadly weapon.
For nearly six hundred years, Vlad Tepesh cared for nothing, so he had nothing to lose. His brutal reputation ensured that all but the most foolhardy stayed away. Now falling in love with Leila has put him at the mercy of his passions. And one adversary has found a devastating way to use Vlad's new bride against him.
A powerful spell links Leila to the necromancer Mircea. If he suffers or dies, so does she. Magic is forbidden to vampires, so Vlad and Leila enlist an unlikely guide as they search for a way to break the spell. But an ancient enemy lies in wait, capable of turning Vlad and Leila's closest friends against them…and finally tearing the lovers apart forever.

Into The Fire releases on October 25th, 2016. Preorder your copy here or at your favorite retailer: Into the Fire (Night Prince)
Mirrored from Frost Light.